About Referral Mastery
About Michael Brizz
Michael Brizz, CMC, CSP, MBA is the president of the Center for Professional Achievement, Inc., a company that provides consulting and training to teams, branches and companies and conducts research on the best practices within the industry. He is the mastermind behind the Referral Mastery System, which is creating tremendous profitable impact for financial advisors across the industry. Advisors typically achieve a net gain of $15 - 95 Million in new assets from referrals within 24 months of implementing the Referral Mastery System.
Over the past 20 years, Mike Brizz has trained tens of thousands of financial advisors on how to dramatically increase productivity, operate their business "by referral only" and build powerful positions in profitable target markets. He has led sales forces in 30 countries around the world to record performances and his coaching clients have reached the very top of the industry, earning such distinctions as Number One Producer in their firms, Financial Advisor of the Year, Top of the Table, and earning spots on Barron's List of Top 100 Brokers in the industry. He has also been a top producer himself throughout his more than 20 year sales career.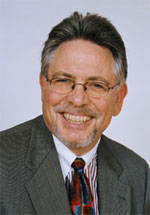 Mike Brizz is one of only 20 people in the world who hold the dual designations of Certified Speaking Professional (CSP) and Certified Management Consultant (CMC), which are the highest designations possible in these professional fields. His workshops are featured at many leadership conferences, industry meetings and home office training sessions. Michael is author of the program Attract High-Quality Referrals with Distinctive Events, a how-to toolkit that teaches financial professionals how to easily host referral events that are fun, flawless and lucrative.
Mr. Brizz has held numerous positions including senior executive, international marketer, trainer, consultant, and performance coach. In the international arena, Michael has achieved outstanding success managing sales forces around the world. In Japan, Michael grew sales by 400% in six years by moving past the country's trade barriers and beating out heavily entrenched Japanese competition. In China, he directed the marketing that sent sales soaring up a staggering 1,500% in just three years. He also achieved dramatic sales growth in the "Four Tiger" countries of Asia.
A frequent contributor to leading industry and sales professional publications, Michael Brizz has written for Selling Power, Life Insurance Selling, GAMA Journal, Business Marketing, and Journal of Management Consulting, among many others. Michael served as President of the Ohio Chapter of the Institute of Management Consultants and is a Professional Level member of the National Speakers Association.
What does CSP mean?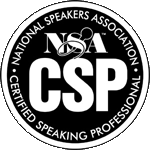 The Certified Speaking Professional (CSP) designation is earned through meeting a combination of standards regarding professional association, professional education, professional performance and professional business management.
Click here to see the full description on the NSA web site.
What does CMC mean?

Certified Management Consultant (CMC) is a certification mark awarded by the Institute of Management Consultants (IMC) USA and represents evidence of a history of producing substantive results for clients, adherence to the IMC canon of ethics, and meeting the highest standards of professional practice management. Less than one percent of all consultants have achieved this level of performance.
Click here to see the full description on the Institute of Management Consultants Web site.
Why Hire A CMC?
You deserve nothing less.
The advantages to the client organization in ensuring that consultants engaged for projects possess the CMC designation include:
The assurance and safety of knowing that the consulting resource you've chosen has passed the toughest certification in the profession and must maintain that degree of performance through periodic recertification.
A history of results and excellent performance, as proven by client testimonials, references and repeat business. Evidence of such a track record is required for CMC certification.
Unwavering adherence to the highest ethical standards of the profession, verified through successful completion of an exam on the IMC ethical canons and the presentation of client confirmation of adherence to those standards.
Experience in the field - A minimum of five years of continuous consulting and successful results are required for certification.
Lifelong professional education, provided by the IMC in the form of national conferences, local workshops, written reports, electronic access to research, newsletters, and other weekly professional development.
Submit a contact request form or call us at 800-865-2867 if you have a question or want to discuss an area in your business you want to strengthen.
Free 30 Minute Consultation
Get help achieving your big-payoff goals — register for a complimentary consultation today!
Client Results . . .
"While last year was a tough year for most advisors, for me it was a record year and so much more. While others advisors were playing defense, I doubled my assets. With the strategies and processes you help me put in place, I was able to re-structure my business to protect my clients and rapidly bring on new HNW clients. With your help, I was able to hit all my targets and bonuses. And I was able to reward myself with my ultimate dream come true. A new Shelby Cobra replica with a 500 hp - 428 Cobra jet engine. I feel like a 6 year old on Christmas morning! Thanks for helping make this happen.

P.S. Next I want you to guide me on how to structure my business so I can take off twice as much time. But remember, I also plan to grow my production by another 50%."

Chuck G., Wells Fargo Advisors
"Your program is the best "How To" on referrals that I've seen in my 22 years in this business."

Jim K, Branch Manager, Smith Barney
"I shake my head in amazement when I look back on my progress. When I started, I was lucky to get 1 referral per month. This past month I generated 40."

Paul A, Wells Fargo Advisors