For Financial Advisors & Sales Professionals
Get More Quality Referrals
Generate 5-10 more referrals every week with The Referral Mastery® System
What impact will an extra 5-10 quality referrals every week have on you?
Every day is more fun and more profitable when you have a consistent flow of quality referrals. You are more productive because referrals are 10 times more productive than other forms of leads. With a flow of quality referrals, you are also spared the demeaning abuse of cold calling, the needless expense and inefficiency of mass mailings, and the massive waste of time promoting public seminars.
With the right system, you can elevate your business to operate "By Referral Only". The reality is that you have access to thousands of quality referrals right now from whom you can receive a red carpet welcome. You can dictate the quality of referrals you desire, how many you want, and how you want to be introduced - IF you have the right system. The Referral Mastery® System is a proven and comprehensive system that will forge stronger client relationships and generate a consistent flow of top quality referrals. The Referral Mastery® System is being used by advisors and agents at firms such as Merrill Lynch, UBS PaineWebber, Prudential, Smith Barney, New York Life, and many others.
Listed below is some of what you will learn and accomplish from implementing The Referral Mastery® System.
How to minimize client reluctance and make it easy for clients to give referrals
How to ask for referrals in ways that strengthen the client/advisor relationship
Eliminate forever the "I can't think of anyone right now" objection
How to get dozens of referrals from each client, instead of one or two
How to get cross-referred to every member of a target group
Coaching your clients to give you the type of referrals you most desire
Eliminate the frustration, wasted time, and expense of cold-calling, mass mailing, and public seminars
Uncover and break through the roadblocks to consistent referral flow
How to establish the expectation with clients and prospects that referrals are important to the relationship
How to structure meetings so referrals are always discussed
How to integrate referrals naturally and easily into your client service system
How to leverage referrals to develop strong positions in profitable target markets
How to set up your system so referrals flow automatically
There are two options for creating a consistent flow of top quality referrals.
The first option is by learning and implementing The Referral Mastery® System through an individually tailored coaching process. You will work one-on-one with an experienced sales coach to learn and progressively integrate the system into your operation. Your coach will tailor the system around you and your business plan so you get exactly the type and number of referrals you desire. You will have regular coaching sessions (every 2 weeks) to progressively learn the system and implement it successfully. Within just 90 days, you can successfully integrate this powerful system and create a consistent flow of top quality referrals.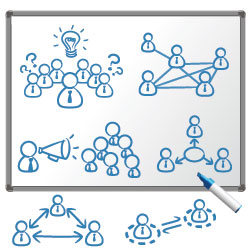 You will receive comprehensive documentation including a 65-page manual with scripts, letters, meeting templates, interview questions, self- assessments, and monitoring forms. You'll also receive specific instructions and examples on how to structure your database to keep track of referrals so you always follow up at the right time. You can also receive templates in electronic form so your staff can help implement the system as well.
Your investment is guaranteed. The Referral Mastery® System is so effective that we guarantee it will pay for itself before your last coaching session. That's right. It must generate new clients who generate fees or commissions that more than cover your investment. If not, we return your investment in full. The only requirement is that you follow instructions and consistently implement the program.
The investment is $2,950, which you may pay by check or credit card. You will see a quick payoff that will return many times your investment alone in the first year. And continue to payoff for the rest of your career. And it's guaranteed.
How do I get started?
Click here to define your objectives
The second option for creating your flow of top quality referrals is through participation in a Referral Mastery Leadership Group. Over a four-month period, you will learn and practice with a select group of committed professional to integrate the system into your operation. You will participate in ten sessions, seven in-group learning sessions and three with a personal coach. If you work in a company where you know there are 10 others who also want to grow their business through referrals, you can create a Referral Mastery Leadership Group. The Referral Mastery Leadership Group is a unique, personal development process where you learn with and are held accountable by a committed group of peers. A skilled coach facilitates the leadership group. You will work in teams to practice, share victories, and support each other's growth. You will receive a comprehensive, 65-page Referral Mastery System Manual that includes scripts, letters, meeting formats, client profiles, as well as electronic templates for easy integration with your contact management system. The investment for a group of 10 is $9,750. The investment is guaranteed to pay off quickly.
You can fully capture the profits, efficiencies, and fun that come from a referral-driven business. If you are serious about driving your business growth through referrals, contact us at 800-865-2867 or by email using the form below.
Click here to define your objectives
What impact would an extra 5-10 quality referrals every week have on you?

Find out by filling out our objectives form for a free consultation.
Client Results . . .
"While last year was a tough year for most advisors, for me it was a record year and so much more. While others advisors were playing defense, I doubled my assets. With the strategies and processes you help me put in place, I was able to re-structure my business to protect my clients and rapidly bring on new HNW clients. With your help, I was able to hit all my targets and bonuses. And I was able to reward myself with my ultimate dream come true. A new Shelby Cobra replica with a 500 hp - 428 Cobra jet engine. I feel like a 6 year old on Christmas morning! Thanks for helping make this happen.

P.S. Next I want you to guide me on how to structure my business so I can take off twice as much time. But remember, I also plan to grow my production by another 50%."

Chuck G., Wells Fargo Advisors
"Your program is the best "How To" on referrals that I've seen in my 22 years in this business."

Jim K, Branch Manager, Smith Barney
"I shake my head in amazement when I look back on my progress. When I started, I was lucky to get 1 referral per month. This past month I generated 40."

Paul A, Wells Fargo Advisors