Become a Referral Master Power Package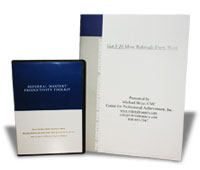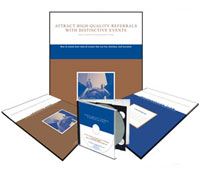 For advisors who want to create dramatic growth in their business through referrals, the "Become a Referral Master" power package includes a treasure chest full of strategies to generate all the quality referrals you desire. This powerful package includes:
• "Master the Referral Process: 31 Lesson Series"
• "Attract High-Quality Referrals with Distinctive Events: How to host referral events that are fun, flawless, and profitable"
When you order these as a package, you save $51. The powerful package is only $297.
Go ahead and check out the entire program for a full month. Learn the strategies, review the scripts, examine it all. If you don't feel the program will make your next event more effective and more profitable, just send it back undamaged and you will receive a full refund.
Plus Special Bonus: (a $500 value)
When you order the Become a Master Referral Generator Toolkit, you will also receive two 30 minute coaching sessions with a Referral Mastery® Coach which you can use to address roadblocks or craft a tailored strategy for a highly connected wealthy client.
Become a Referral Master Power Package
Reg. Price: $

348

(Save: $51) Sale Price: $297
Free 30 Minute Consultation
Get help achieving your big-payoff goals — register for a complimentary consultation today!
Client Results . . .
"While last year was a tough year for most advisors, for me it was a record year and so much more. While others advisors were playing defense, I doubled my assets. With the strategies and processes you help me put in place, I was able to re-structure my business to protect my clients and rapidly bring on new HNW clients. With your help, I was able to hit all my targets and bonuses. And I was able to reward myself with my ultimate dream come true. A new Shelby Cobra replica with a 500 hp - 428 Cobra jet engine. I feel like a 6 year old on Christmas morning! Thanks for helping make this happen.

P.S. Next I want you to guide me on how to structure my business so I can take off twice as much time. But remember, I also plan to grow my production by another 50%."

Chuck G., Wells Fargo Advisors
"Your program is the best "How To" on referrals that I've seen in my 22 years in this business."

Jim K, Branch Manager, Smith Barney
"I shake my head in amazement when I look back on my progress. When I started, I was lucky to get 1 referral per month. This past month I generated 40."

Paul A, Wells Fargo Advisors