Generate dozens of high quality introductions in 90 days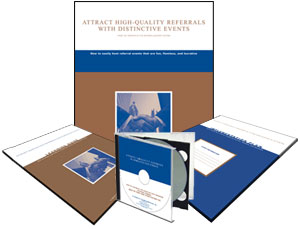 With the new and unique referral event toolkit Generate High-Quality Referrals with Distinctive Events, you will learn
How to get quality prospects to attend your events
How to make it comfortable and easy for clients to bring quality referrals
How to turn introductions into appointments
"With your strategies, we averaged 65 people at each event. Every guest fit our target profile. Our total cost of invitations was less than $10."

Adam Meinrod, Jacksonville
Your comprehensive, A-Z event toolkit includes:
Invitation language so clients bring high-quality referrals
Follow-up steps and scripts that secure appointments
Comprehensive checklists and implementation guides so "nothing falls through the cracks". You or your staff can easily manage all the details.
Dozens of ideas on how to create unique events so your clients want to bring friends and colleagues
How to use small events to make a BIG impact with elite prospects
How to select the right type of event so the people you want show up
Secure discounts and save thousands of dollars on seminars and events
Do's and don'ts of successful events
How to make events successful - even if it's your first time
Tips on how to form partnerships with sponsors and how to minimize delays when securing compliance approval.
"In the past, very few clients brought referrals to my events. By using these strategies, every client brought FOUR quality referrals to my event. My events have now become much more lucrative."

John Sloop, Rock Hill, SC
48 page Learning Guide which shows you step-by-step the entire process: from setting objectives, to selecting the right type of event and the right place to fit your objectives, how to invite clients and have them bring the right guests, how to arrange the room, how to get back ground information on each guest, how to follow-up in meaningful ways so referrals want to meet you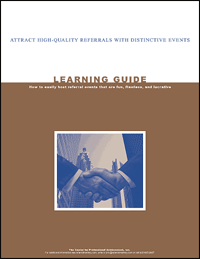 16 page Implementation Plan with comprehensive checklists that lets you know at a glance whose been invited, who is coming, background information on all guests, follow-up contact status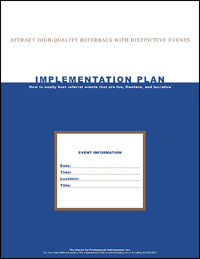 Compact Disc with success stories that will reveal the exact strategies used to create dozens of high quality referrals in less than 90 days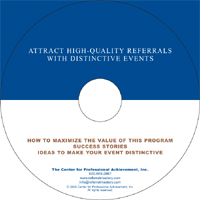 FREE BONUS #1
With our order, you will also receive FREE the highly popular and profitable workshop CD and workbook "Get 5-10 More Referrals Every Week."
You will learn:
How to minimize client reluctance and make it easy for clients to give referrals
How to ask for referrals in ways that strengthen the client/advisor relationship
Eliminate forever the "I can't think of anyone right now" objection.
How to get dozens of referrals from each client, instead of 1 or 2.
Slam dunk referrals - even in a lousy market
Coaching your clients to give you the type of referrals you most desire.
How to get referred to 100% of any group you desire
The companion workbook includes scripts, meeting templates, self assessments, network maps, and much more. The Audio CD will provide the power questions which get prospects and client to reveal who they know.
FREE BONUS #2
You will also receive a free one year subscription to the Referral Mastery Tip Series. You will be provided a steady stream of new event ideas as well as other strategies to generate more referrals. In addition, you will be invited to participate free in special tele-seminar sessions with the authors so you stay abreast of the latest developments with this strategy.
FREE SHIPPING
We even pay the shipping. This powerful toolkit can be in your hands this week.
"What's the investment?"
Your investment is only $149. We even pay the shipping. Just the tips on securing discounts will save you more on your first event than your entire investment in this program. The big payoff is the number of new quality clients you create.
What's the guarantee?
Go ahead and check out the entire program for a full month. Learn the strategies. Review the scripts. Examine it all. If you don't feel the program will make your next event more effective and more profitable, just send it back undamaged and you will receive for a full refund.
"Using just one of your strategies from the toolkit has added $40 Million of new assets into my pipeline in the first 8 months."

Ed Wilson
WHY WAIT WHEN YOU CAN GET DEEP INTO YOUR "A" CLIENTS NETWORKS IN THE NEXT 90 DAYS?
Who Are the Authors?
Michael Brizz, CSP, CMC is President of the Center for Professional Achievement, Inc. and developer of The Referral Mastery® System. Over 18 years, he has trained thousands of advisors and personally coached many of the industry's top producers including #1 producers in their firms, Top of the Table members, and those who have earned inclusion on Barron's List of Top 100 Brokers in the industry. Advisors he coaches typically add $20-40 Million in new assets from referrals within 24 months. Mike is recognized as the industry's foremost innovator in driving growth through referrals. He is a highly sought after speaker at Leaders' Councils and his articles appear regularly in industry publications.
Mark Johnson is a 15-year veteran of the industry. Mark personally participated in and helped design hundreds of client and prospecting events during his 10 years as a wholesaler for one of the top mutual fund families in the industry. He knows what works and doesn't work - and how to make events generate new clients.
WHY WAIT WHEN YOU CAN GET DEEP INTO YOUR "A" CLIENTS NETWORKS IN THE NEXT 90 DAYS?
What clients say about
Attract High-Quality Referrals with Distinctive Events and
The Referral Mastery® System
"We added $25 Million in new assets from referrals just in the first few months of applying your referral system."

Adam Meinrod
Jacksonville, FL
"Since implementing your system, I have qualified for Top of the Table for the first time in my career and become the #1 equity producer in my broker dealer. Quality referrals are flowing to me an unprecedented rate. I am attracting exactly the quality of clients with whom I wish to work."

John Augustine
Milwaukee, WI
"Your system is revolutionizing my business."

Jim Chell
"Your system is so comfortable and natural for both our clients and us. We are impressed with how QUICKLY your system pays off. Just in the first 30 days, we have over $5 Million in new assets coming in."

Dennis Pauwles
Fort Wayne, Indiana
"With your systems, I set an all time production record at Merrill for my LOS."

Robert M.
Merrill Lynch
"My personal production is up 85% over last year. Your very first idea has consistently generated quality referral for me. I am impressed with how well your referral system works."

Kurt King
Walnut Creek, CA
"I've been blown away by the business walking in the door since implementing your systems. My production is up 74%. Your systems make work more enjoyable and much more profitable."

David Ross
Murfreesboro, TN
"With your systems, my business doubled last year. I have never so much control of my business in my career."

Gary Scott
Tampa, FL
"I shake my head in amazement when I look back on the progress I have made since implementing your system. Before I was lucky to get 1 referral per month. This past month I got 40!"

Paul Allen
Wells Fargo Advisors
Need to know more
"Secrets of the Masters"
We have the privilege of working with clients who are among the elite in the industry. They are the #1 producers in their firms, Top of the Table members, and those who have earned inclusion on Barron's List of Top 100 Advisors in the industry. The Best America Has to Offer. We carefully studied what these top producers do and created a powerful referral event toolkit to help sales professionals easily host referral events that are fun, flawless, and lucrative.
Here is an important secret that these multi-million dollar producers know. You can fast-forward the referral process and get introduced quickly to a high percentage of your "a" clients' networks. If you leverage the strategy effectively.
There are four important keys to making this strategy pay off in a big way.
Key #1
The first key is to design the right type of event. Host the wrong type of event and the wrong people show up. That is why there is a whole section of this referral event toolkit that helps you design the right type of event so you will attract the type of people you want. A client appreciation event is a completely different type of event than one that will further your penetration into a major company. You will learn when a small event is better than a large event. And frequently the small event is more lucrative.
Where you hold the event is a significant factor in who attends and how many. You will learn how to leverage the event's location to make your event a huge draw. In this section, you will see dozens of examples of what others have done and learn the key criteria in selecting the type of event that will be a big hit with your target clients.
And most importantly, you will learn how to define the right objectives for your event. Otherwise, you will waste a lot of time, energy, and money with only a big invoice to show for it in the end.
Key #2
The second key is how you control who attends. DON'T LEAVE THIS TO CHANCE! Or to the whim of your clients. This one factor alone can have a TEN-FOLD DIFFERENCE in the profitability of your event. In Attract High-Quality Referrals with Distinctive Events, you will learn how to heavily influence which referrals your clients bring and don't bring. You will be given effective scripts and tips on how to have this conversation with clients so you won't end up with a roomful of low quality prospects. Now that is a waste of time!
More importantly, it's a waste of a tremendous opportunity. How many events a year will even your better clients attend and bring along quality referrals? You must use these golden opportunities well. If you learn only one thing, learn how to control the quality of referrals they bring to your event. The good news is that when you read "Attract High-Quality Referrals with Distinctive Events", you will learn how to do this and much, much more.
Key #3
The third key is how you organize and manage the details. For these types of events, THE DETAILS MATTER. And there a lots of 'em. You need to keep track of all the details, to make sure everything is on schedule, and NOT drive yourself or your staff crazy. Details like getting compliance approval, room layout, printing of the invitations, tracking RSVP's, background information on who is coming, contact information for food…..
"Attract High-Quality Referrals with Distinctive Events" includes a comprehensive IMPLEMENTATION PLAN which includes a Master Control Checklist so you can easily track the status of everything that has to be done - on a single sheet. This will allow you to easily delegate responsibilities and track progress. NOTHING SLIPS THROUGH THE CRACKS. The Implementation Plan also keeps tracks of who has been invited, when they were contacted, who is bringing guests, background information on guests, contact information for all the facility and food and equipment folks, and even a tracking sheet for the results. It also includes the scripts to get people to come and the follow-through script to create appointments. The Implementation Plan is so thorough that you can host very successful events without any staff
Key #4
The fourth key is your follow-through. The quality and thoroughness of your follow-through plan determines how BIG your pay-off will be. Too many advisors conduct terrific events, but fail to harvest the fruits of their labor due to an inadequate follow-through plan. It's like hitting a home run and then stopping at 3rd base. That is why "Attract High-Quality Referrals with Distinctive Events" has a whole section on follow-through including what to do within 24 hours, within 3 days, how to hold the conversation with clients, how to get them excited about your next event, how to contact guests in a value-added way that PRODUCES APPOINTMENTS, how to work with vendors to create win/win victories and more.
"Can this work for me?"
If you are new to your firm or new in your role, you may wonder, "Do I need a big client base to make this strategy work?" No. You can begin to leverage this strategy if you have only ONE solid relationship with either a client or center of influence who knows others who meet your target profile.
Do referral events require a big investment? No. You can create referral events that are small and inexpensive. For some events, The Ritz is the right place. For other type of events, your client's backyard may be better. In most cases, referral events are much less expensive than conducting public seminars.
Is the program 100% idiot-proof? No, but it's close. Let's be frank. There are some folks who are unable to follow hula-hoop instructions. However, if you have a smidgen of creativity or an interest in growing your business in a distinctive way, this step-by-step guide will be a very valuable toolkit for your business.
Generate High-Quality Referrals With Distinctive Events
CD and workbook. Sale Price: $149
Free 30 Minute Consultation
Get help achieving your big-payoff goals — register for a complimentary consultation today!
Client Results . . .
"While last year was a tough year for most advisors, for me it was a record year and so much more. While others advisors were playing defense, I doubled my assets. With the strategies and processes you help me put in place, I was able to re-structure my business to protect my clients and rapidly bring on new HNW clients. With your help, I was able to hit all my targets and bonuses. And I was able to reward myself with my ultimate dream come true. A new Shelby Cobra replica with a 500 hp - 428 Cobra jet engine. I feel like a 6 year old on Christmas morning! Thanks for helping make this happen.

P.S. Next I want you to guide me on how to structure my business so I can take off twice as much time. But remember, I also plan to grow my production by another 50%."

Chuck G., Wells Fargo Advisors
"Your program is the best "How To" on referrals that I've seen in my 22 years in this business."

Jim K, Branch Manager, Smith Barney
"I shake my head in amazement when I look back on my progress. When I started, I was lucky to get 1 referral per month. This past month I generated 40."

Paul A, Wells Fargo Advisors