Get More Done in Less Time with Less Stress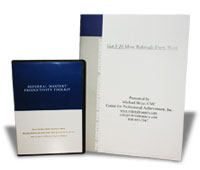 Are you frustrated that daily distractions keep pulling you off track and preventing you from accomplishing important priorities?
Is the constant scrambling to keep up with the workload sucking joy out of your day?
Do you hear yourself saying, "How will I ever find the time to do that?" when you read about business-building ideas?
You can continue to grow your business and deliver high quality service consistently to your client base - if you have the right time management strategies and tools. The "Get More Done in Less Time" toolkit will provide you with proven strategies other advisors are using to control their time, get the income producing activities implemented each day, AND deliver world class service. You will learn
How to structure your day and week so you accomplish all your important priorities including prospecting, client service, study, personal workouts, and family time
Eliminate the stress of having to decide when to do things or how you will get them done
How to track your activity so you hit all your growth goals and are ahead of the curve
Learn the 7 key strategies that CREATE time for you
How to immediately clear 10 things off your plate.
Plus 50 more tactics for saving even more time and getting more done
The strategies in this toolkit will significantly increase your income, reduce stress, and provide you with greater control of your day and your business. As a result, you will free up both time and personal energy so you can focus more intently on the most fulfilling and highest payoff activities.
You can quickly experience higher levels of control and more free time by ordering this toolkit.
Get More Done in Less Time with Less Stress
Strategies Toolkit. Sale Price: $27
Free 30 Minute Consultation
Get help achieving your big-payoff goals — register for a complimentary consultation today!
Client Results . . .
"While last year was a tough year for most advisors, for me it was a record year and so much more. While others advisors were playing defense, I doubled my assets. With the strategies and processes you help me put in place, I was able to re-structure my business to protect my clients and rapidly bring on new HNW clients. With your help, I was able to hit all my targets and bonuses. And I was able to reward myself with my ultimate dream come true. A new Shelby Cobra replica with a 500 hp - 428 Cobra jet engine. I feel like a 6 year old on Christmas morning! Thanks for helping make this happen.

P.S. Next I want you to guide me on how to structure my business so I can take off twice as much time. But remember, I also plan to grow my production by another 50%."

Chuck G., Wells Fargo Advisors
"Your program is the best "How To" on referrals that I've seen in my 22 years in this business."

Jim K, Branch Manager, Smith Barney
"I shake my head in amazement when I look back on my progress. When I started, I was lucky to get 1 referral per month. This past month I generated 40."

Paul A, Wells Fargo Advisors