For Sales Managers & Meeting Planners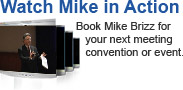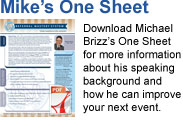 Re-charge Your Business After the Crash
WORKSHOP
The dramatic pullback in the markets has taken a heavy toll on clients, companies, and advisors. The market crash has also created huge opportunities to add clients and make your business stronger. Advisors will learn multiple strategies on how to strengthen bonds with current clients, protect their businesses from future crashes, and capitalize on the extraordinary opportunities to add new clients and assets.
Content
How to leverage volatile markets to generate quality introductions
Prospecting strategies that are working in these difficult times
Capitalizing on the extraordinary opportunities in 2009
How strengthen bonds with clients in hard times
How to strengthen bonds and increase your income by serving more clients needs
Keeping clients connected and protected during a crisis
How to deal with upset clients and help them regain a sense of control.
Moving clients from &quote;punching bag&quote; to "opportunity grabber"
Keeping yourself strong in tough times
How to develop rapid response capability in volatile markets
How to ask for referrals when the portfolio has taken big hits
How to make clients look like heroes when they refer you
How to minimize client reluctance and make it easy for clients to give referrals
How to leverage Centers of Influence in hard times
Eliminate forever the "I can't think of anyone right now" objection
How to get referred to 100% of any group you desire
Coaching your clients to give you the type of referrals you most desire
Workshop Leader
Michael Brizz, CSP, CMC is the developer of the Referral Mastery System which is creating a huge impact in the industry. Advisors who implement the Referral Mastery System typically add $15-40 Million in net new assets from referrals in the first 24 months. Michael personally coaches some of the biggest producers in the industry. Over the past 20 years, Mike has trained tens of thousands of financial advisors. He is one of only 20 people in the world who hold the dual designations of Certified Management Consultant and Certified Speaking Professional.
Feel free to email or call us at 800-865-2867 if you have a question or want to explore ways to drive rapid growth and higher profitability.
Free 30 Minute Consultation
Get help achieving your big-payoff goals — register for a complimentary consultation today!
Client Results . . .
"While last year was a tough year for most advisors, for me it was a record year and so much more. While others advisors were playing defense, I doubled my assets. With the strategies and processes you help me put in place, I was able to re-structure my business to protect my clients and rapidly bring on new HNW clients. With your help, I was able to hit all my targets and bonuses. And I was able to reward myself with my ultimate dream come true. A new Shelby Cobra replica with a 500 hp - 428 Cobra jet engine. I feel like a 6 year old on Christmas morning! Thanks for helping make this happen.

P.S. Next I want you to guide me on how to structure my business so I can take off twice as much time. But remember, I also plan to grow my production by another 50%."

Chuck G., Wells Fargo Advisors
"Your program is the best "How To" on referrals that I've seen in my 22 years in this business."

Jim K, Branch Manager, Smith Barney
"I shake my head in amazement when I look back on my progress. When I started, I was lucky to get 1 referral per month. This past month I generated 40."

Paul A, Wells Fargo Advisors