For Sales Managers & Meeting Planners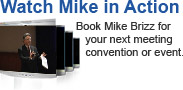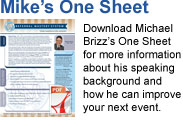 Low cost client acquisition system for groups of advisors
Generate $20-95 Million of new assets per advisor within 24 months
Easy to implement
Low cost to the branch or company
"With your system, each advisor added 11 more referrals per week."

Larry Bloom
You can equip your advisors with a powerful client acquisition system that both pays off quickly and continues to pay off in a big way every year, for the rest of your career. And you can do it with a shockingly small investment.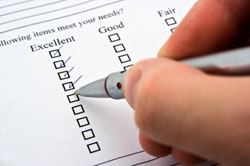 Sound too good to be true?
Here's the track record: with our system, individual advisors typically generate between $15-95 Million of new assets from referrals within 24 months. What impact would it have on your income and profitability if a whole group of your advisors did this?
Once our system is implemented, it keeps adding new clients and assets for as long as the advisor wants to grow.
To learn if this system is a good fit for your advisors, call Mike at 800-865-2967 or complete our objectives form and we will arrange a time to see what's possible for you.
What do advisors say about the results they have achieved with The Referral Mastery System?
"In the first two years of using your Referral Mastery system, I brought in $95 million of new assets."

Will F. UBS
Since implementing your system, I have qualified for Top of the Table for the first time in my career and become the #1 equity producer in my broker/dealer. I am attracting exactly the quality of clients with whom I wish to work – those who want to give back.

John A., Milwaukee, WS
"With your systems, I set an all time production record at Merrill for my LOS."

Robert M., Merrill Lynch
"We've brought in over $25 Million of new assets just in the first few months of using The Referral Mastery System."

Adam M. and Chris L., Raymond James
"My personal production is up 85% over last year. Your very first idea has consistently generated quality referrals for me."

Kurt K., Wells Fargo Advisors
"I've been blown away by the business walking in the door since implementing your systems. My production is up 74%. Your systems make work more enjoyable and much more profitable."

David R. John Hancock
"I shake my head in amazement when I look back on the progress I have made since implementing your system. Before working with you I was lucky to get 1 referral per month. This past month I got 40!"

Paul A, Wells Fargo Advisors
"We are so pleased with the results. Your Referral Mastery System is so comfortable and natural for both our clients and us. We are impressed with how quickly it has paid off. In the first month of implementing the system, we already have $5 Million in new assets on the books or in process. Referrals are flowing at a record pace!"

Dennis P, Merrill Lynch
"For those debating whether to start working with you now or later, I say, "DO IT NOW". I originally questioned whether it was "the right time". I'm very glad we went ahead. You showed us how to grow both more quickly and more efficiently."

Kris A, First Vice President, Wells Fargo Advisors
"This is the best HOW TO I have seen in my 22 years in the industry."

Jim K, Smith Barney
To learn if this system is a good fit for your advisors, call Mike at 800-865-2967 or complete our objectives form and we will arrange a time to see what's possible for you.
---
The good news is that you can both grow rapidly AND dramatically cut back on the money you spend on mass mailings, advertising and seminars IF you can get your advisors to consistently generate high quality introductions. Nothing pays off as profitably or consistently as a powerful referral system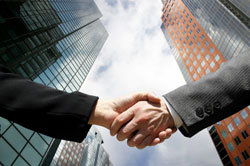 To succeed with referrals today, you first need a referral system that is designed to work in today's marketplace. Times have changed. With so many industry scandals in recent years, the old referral approaches don't work anymore. That is one reason why so many advisors are struggling with referrals. They don't have the tools to overcome the client concerns and other challenges in generating referrals today.
The Referral Mastery® System is unique in empowering advisors to win in today's difficult environment. Here are just a few of the strategies advisors learn to deploy:
How to make the client look like a hero when they introduce you
How to get the client to play an active role in introducing you
How to control the quality of referrals you receive
How to make it easy for the client to refer you
How to use the referral process to strengthen your relationships with clients
How to get dozens of referrals from clients instead of one or two
To get advisors to change behaviors, you need to do more than just inform them of better strategies. Advisors need to be held accountable to implement a systematic process. Another way The Referral Mastery® System is unique is that we help your advisors change behaviors and implement systematic processes through a multi-month, step-by-step implementation program. The group coaching process breaks the learning and implementation into small, "bite-size" building blocks that can easily be implemented. Each advisor is held accountable to execute each progressive building block and so they build their system, one-step-at-a-time.
The results speak for themselves. For experienced advisors, the Referral Mastery Coaching Process typically generates $15 - 95 Million of new assets form referrals within 24 months for each advisor.
It's easy and low cost to your organization. We do the teaching and provide all the materials including manuals and CD's. We will work closely with you to make sure it fits with your sales process and service model.
The branch investment is less than the cost of a single mailing for one seminar. We require advisors to contribute financially which helps raise their commitment level and lowers the cost to the branch or company.
This is not the solution for every organization. Certain pre-conditions need to be in place. To find out if the Referral Mastery Group Coaching process is a good fit for your team, call Michael Brizz at 800-865-2867 or complete the objectives form and we will follow-up to schedule a convenient time to speak by phone.
Free 30 Minute Consultation
Get help achieving your big-payoff goals — register for a complimentary consultation today!
Client Results . . .
"While last year was a tough year for most advisors, for me it was a record year and so much more. While others advisors were playing defense, I doubled my assets. With the strategies and processes you help me put in place, I was able to re-structure my business to protect my clients and rapidly bring on new HNW clients. With your help, I was able to hit all my targets and bonuses. And I was able to reward myself with my ultimate dream come true. A new Shelby Cobra replica with a 500 hp - 428 Cobra jet engine. I feel like a 6 year old on Christmas morning! Thanks for helping make this happen.

P.S. Next I want you to guide me on how to structure my business so I can take off twice as much time. But remember, I also plan to grow my production by another 50%."

Chuck G., Wells Fargo Advisors
"Your program is the best "How To" on referrals that I've seen in my 22 years in this business."

Jim K, Branch Manager, Smith Barney
"I shake my head in amazement when I look back on my progress. When I started, I was lucky to get 1 referral per month. This past month I generated 40."

Paul A, Wells Fargo Advisors