For Financial Advisors & Sales Professionals
For Sales Managers & Meeting Planners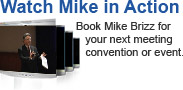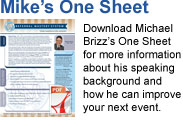 Local Sales Expert Earns Rare Double Designation
July 13, 2007 - Weston, FL
Local sales expert Michael Brizz, CMC, CSP was awarded the Certified Speaking Professional (CSP) designation this week by the National Speakers Association at its national convention in San Diego.
Michael is now one of less than 20 people in the world who hold the dual designations of Certified Speaking Professional and Certified Management Consultant (CMC).
Michael is a recognized expert in the areas of sales force productivity and consults to companies nationally in the areas of sales force productivity and customer loyalty. He conducts over 100 training programs a year for companies across the country. Michael is the developer of the Referral Mastery System which is used widely in the financial services industry. Michael is the President of the Center for Professional Achievement, Inc. which is based in Weston, FL.
The CSP designation is governed by the National Speakers Association and is awarded only to those who have passed stringent qualifications and demonstrated excellence in the speaking profession over several years. Less than 10% of professional speakers hold this designation.
The CMC designation is governed by the Institute of Management Consultants. The CMC mark is awarded to those select consultants who have demonstrated a history of substantive results for clients, shown adherence to the IMC USA code of ethics and professional practice management. CMC's are acknowledged as leading experts in their fields, with track records of significant accomplishments in their consulting engagements. In order to maintain their status, CMC's must re-certify every three years. Less than 1% of the consultants in the United States have been recognized with the CMC.
Feel free to email or call us at 800-865-2867 if you have a question or want to discuss an area in your business you want to strengthen.
Free 30 Minute Consultation
Get help achieving your big-payoff goals — register for a complimentary consultation today!
Client Results . . .
"While last year was a tough year for most advisors, for me it was a record year and so much more. While others advisors were playing defense, I doubled my assets. With the strategies and processes you help me put in place, I was able to re-structure my business to protect my clients and rapidly bring on new HNW clients. With your help, I was able to hit all my targets and bonuses. And I was able to reward myself with my ultimate dream come true. A new Shelby Cobra replica with a 500 hp - 428 Cobra jet engine. I feel like a 6 year old on Christmas morning! Thanks for helping make this happen.

P.S. Next I want you to guide me on how to structure my business so I can take off twice as much time. But remember, I also plan to grow my production by another 50%."

Chuck G., Wells Fargo Advisors
"Your program is the best "How To" on referrals that I've seen in my 22 years in this business."

Jim K, Branch Manager, Smith Barney
"I shake my head in amazement when I look back on my progress. When I started, I was lucky to get 1 referral per month. This past month I generated 40."

Paul A, Wells Fargo Advisors